Today's business world is evolving faster than ever in Japan and across the globe. As a company and as individuals, we think through what we do, act differently and transform our business to drive better future for NTT DATA. Mission and Vision statements serve as a guide to achieve our aspirations.
Mission Statement
NTT DATA uses information technology to create new paradigms and values, which help contribute to a more affluent and harmonious society.
Employee Creed
1.

We will do our utmost to serve our customers.

2.

We will meet the challenges of our work with an active and positive spirit.

3.

We will create a vital and vibrant company.
Group Vision
In 2005, in response to accelerating globalization, NTT DATA instituted a new Group Vision, which we termed Global IT Innovator. With IT at the core of our business, we aimed to comprehensively expand our operations to markets around the world. Our vision embraced two beliefs: "we could change IT to make it better" and "through IT we could change the world." As a leading innovator in the field of IT, we set out to enable our clients to achieve their highest goals and aspirations.
In 2013, our growing operations include approximately 62,000 people in 35 countries working on the challenges that our clients face. To help accelerate our business growth in the decade ahead, we have instituted a new highly evolved definition of Global IT Innovator.
Our Group Vision contains three messages: (1) we build long-term relationships with our clients and enable them to reach their highest goals and aspirations; (2) we create evolving ecosystems through advanced technology; and (3) we enhance our creativity through the respect and encouragement of diversity at every level of our company. At NTT DATA, new challenges and the opportunity for greater progress in the decade ahead begin now.
We realize the dreams of our clients around the world through long-term relationships.
We develop evolving ecosystems with our clients through leading-edge technologies.
We enhance our creativity by respecting diversity.
An important step in working together and achieving the corporate transformation set out in our Group Vision is stating the values we esteem and seek to share. These values are as follows:
Clients First
First, and above all else, we place the needs of our clients. We work continuously to understand your business and we strive to resolve every concern to your satisfaction. We feel responsibility to ensure your success and we let this obligation set the direction of our work and guide our actions.
Foresight
We never settle for the status quo. Instead, with speed and foresight, we anticipate challenges that lay ahead. We consider the future of IT as well as the future of your business, work to enhance our ability to picture the future, and with our ecosystems, adapt to the changing business environment. In this way, we help you to meet your goals and create a brighter future for society.
Teamwork
We put great importance on enabling our employees to achieve their best through their work with each other. We believe that when a diverse group of individuals brings their unique world views together, shares their wisdom, and works toward a common goal, the results are extraordinary and far beyond what can be achieved by any one person.
Global Compliance Policy
Global Compliance Policy sets criteria that guide our daily actions with regard to ethics, laws, regulations, etc.
Special Contents
NTT DATA Technology Foresight provides you with the insight you need to better understand - and prepare for - these coming changes. The product of a year - long research effort,At NTT DATA, we continually investigate advanced technologies and social trends that we believe will impact businesses over the next three to ten years, and we publish these findings on an annual basis for the benefit of our clients
NTT DATA was thrilled to host the Melbourne Pitch Day for the Open Innovation Contest 7.0 - in which ten selected start-ups took to the stage to sell their ideas to a panel of industry leaders.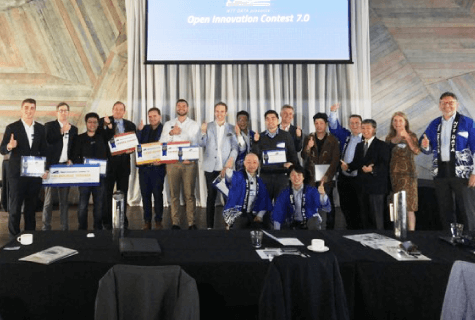 In what was a highly competitive pitch day event with a rich talent pool, Start-ups had just seven minutes to convince judges and the audience of their idea. Start-ups showcased some very exciting prospects from a variety of technology and industry domains - including smart health device, Internet of Things (IoT), 3D printing and Artificial Intelligence. Cloud-based enterprise workflow software provider - Emvisage was selected to progress to the Grand Finale in Tokyo Japan.
We were fortunate to receive keynote speeches from Kathy Coultas, Director, Strategic Innovation Investment, Department of Economic Development, Jobs, Transport and Resources, Victoria State Government; as well as Mr Kazuyoshi Matsunaga, Consul-General of Japan in Melbourne, Australia.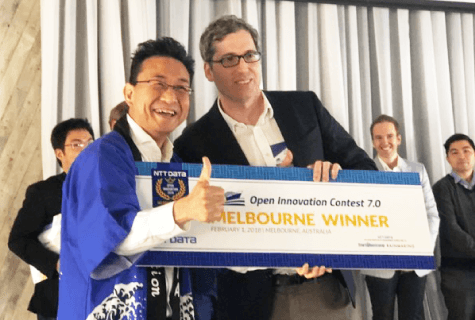 Pitch Day Winner - Cameron Milnes, CEO of Emvisage - receiving the award
About Emvisage:
"Emvisage changes the way people see enterprise workflow software. Our platform helps large organisations like GE, AGL and Asahi Beverages to digitise and deliver work. Emvisage is tailored to the way your business works, with its beautifully intuitive interface, people grasp it quickly. And it's fast. A customised solution up and running in less than two weeks – the results can be transformative" - Cameron Milnes, Emvisage CEO.
Meet the Startups:
Looking for more on the Open Innovation Contest?
The Vatican Apostolic Library has commissioned a project to create an online digital archive to preserve its manuscripts for future generations. This activity will form part of an enduring cultural legacy.
NTT DATA has agreed to participate in the Vatican Apostolic Library digitisation project, recognising that it is an endeavour that can be considered a major contribution to humanity. In April 2014, NTT DATA began working on the project, with plans to digitise approximately 3,000 handwritten manuscripts over the course of the next four years.
Through the project, high-definition images can be observed using a special viewer that has been built with NTT DATA's digital archive solution technology, AMLAD. The viewer, which has interfaces for multiple types of devices, including tablets, provides easy access to brilliant images of these irreplaceable manuscripts.
The following website provides details on the scope and content of the Vatican Apostolic Library's Digital Archiving Project.
NTT DATA, a leading IT services provider, was recently recognised as a leader in NelsonHall's NEAT Vendor Evaluation for SAP HANA and S/4HANA Services(PDF: 12 pages, 946KB). NTT DATA was ranked as a leader in the "overall" category, as well as the "SAP HANA Focus" category and "S/4HANA Focus" category.
"To be identified as a leader for SAP HANA and S/4HANA services is an honour, but to be ranked as one of the leaders in the industry is truly a testament to our team of experts who provide unique SAP solutions to solve our client's specific needs," said Kaz Nishihata, Senior Executive Vice President & Representative Director, NTT DATA Corporation. "Our capabilities, combined with NTT DATA companies, itelligence(External Link) and everis(External Link), have enabled our global client base to be leaders in the adoption and implementation of SAP HANA and S/4HANA."
"NTT DATA has aggressively built its SAP HANA and S/4HANA capabilities, beginning with its acquisition of itelligence," said, David McIntire, IT Services Research Director for NelsonHall. "It is now focusing its offerings to support the breadth of HANA and S/4HANA services from assessment to implementation to operations for clients from SMB to large enterprise".
NTT DATA supports the adoption and implementation of SAP HANA and S/4HANA through consulting, implementation and modernization services. NelsonHall identified the company's strengths, which included SAP-certified industry solutions, deep expertise in S/4HANA implementation services, a strong EMEA and SMB HANA and S/4HANA practice, as well as a strong willingness to acquire additional SAP capabilities.
NelsonHall's comprehensive market assessment report of the SAP HANA and S/4HANA industry and trends highlights the current and future market for the services, as well as covering the leading industry service providers and the benefits and results the vendors have been able to achieve for their clients.
About NTT DATA
NTT DATA (TOKYO: 9613) is a leading IT services provider and global innovation partner headquartered in Tokyo, with business operations in over 50 countries. Its emphasis is on long-term commitments, combining global reach with local intimacy to provide premier professional services varying from consulting and systems development to outsourcing. For more information, visit www.nttdata.com.
About NelsonHall
NelsonHall is the leading global analyst firm dedicated to helping organizations understand the 'art of the possible' in next generation IT and business services. With analysts in the U.S., U.K., and Continental Europe, NelsonHall provides buy-side organizations with detailed, critical information on markets and vendors that helps them make fast and highly informed sourcing decisions. And for vendors, NelsonHall provides deep knowledge of market dynamics and user requirements to help them hone their go-to-market strategies. NelsonHall's research is rigorous and all-original, and widely respected for the quality, depth and insight of its analysis.
For more information, please contact:
News Releases.
The services, prices of products and services, specifications, telephone numbers, etc. for inquiries and other information included in news releases are the data available on the day of the release. This information may be changed at any time without notice. In certain circumstances, due to various risks or unexpected occurrences, actual results may also be different from the plans or projections in news releases.
Technology has never been more crucial to providing customer value, driving competitive advantage and achieving operational and cost efficiencies. As a top 10 global IT services provider, NTT DATA is an IT innovator you can trust. Headquartered in Tokyo, Japan, our operations span across a network of 100,000 industry professionals, with a presence in over 50 countries worldwide.
With business in all states of Australia, NTT DATA provide a full suite of IT services to clients in the Public Sector, Transportation, Retail, Insurance and Financial Services industries. We work at all levels of the IT ecosystem, providing solutions for Big Data and Analytics, Application Development and Management, Enterprise Application Services, IT Outsourcing, CRM, and Quality Assurance and Testing.
As a partner to our clients, we devise strategies to remove the pain-points that inhibit growth, while developing cost-effective solutions, with the right technology mix, to meet the demands of an agile, digital economy.
A Rich History of Innovation
From our integral role in building Japan's financial systems to helping advance safety in air transportation, NTT DATA has been a pioneer of social change for more than five decades.

NTT DATA Australia
Level 12, 15 Castlereagh Street
Sydney, NSW 2000
Reception: +61. 2.8020.8181
Specialist Operating Companies
Business Field: End-to-end solutions across the entire SAP portfolio of applications and sixteen industry domains.
5 Florence Street
Newstead, QLD 4006
Reception: +61 7.3308.9400
Business Field: Software services provider for non-traditional insurers and third party administrators. Solutions include WHS, Worker's Compensation, Insurance Claims, and Fleet and Asset Management.
Level 12, 15 Castlereagh Street
Sydney, NSW 2000
Reception: +61. 2.8020.8100
Business Field: Smart Card Ticketing, Micropayment Systems, Big Data and Public Transportation Ticketing Infrastructure Management.
Level 14, 628 Bourke Street
Melbourne, VIC 3000
Reception: +61. 3.8656.3500
MELBOURNE, August 29th. NTT DATA, a global IT service provider, announced its latest NTT DATA Open Innovation Contest 7.0 spanning 15 regional stops across the world. Joining forces for the second year in a row, Rainmaking Innovation, Startupbootcamp and NTT DATA will work to attract the best talent for the key Asia Pacific stops in Melbourne, Mumbai and Singapore, bringing startups the opportunity to explore expansion into the Japanese market jointly with NTT DATA. Startups seeking global expansion stand to benefit from NTT DATA's vast global network, encompassing 210 cities in 51 countries and more than 110,000 people (as of March 31, 2017).
The business innovation contest hopes to collaborate with venture business startups from the following themes:
Industrial Themes: FinTech, InsuranceTech, HealthcareTech, Financial Inclusion, RegTech
Technological Themes: IoT, Digital marketing, Blockchain, Virtual currency, API, Personal data, AI, Drone, Digital archive, BPM, Energy, Quantum computing. *There will be additions. Please check the official website periodically.
Japan has the 10th largest population in the world, with strong IT and software industries. The country continues to develop as one of the world's leading markets. Over recent years the Internet, Mobile and E-Commerce industries have begun to grow rapidly in Japan and have developed into strong pillars of the Japanese Economy.
To assist with relevant expansion into the Japanese markets/expand globally, NTT DATA is offering three opportunities throughout the Open Innovation Contest:
The opportunity to present before local and regional thought leaders
The opportunity (if selected) to present in the Tokyo Finale to the leaders of NTT DATA's business sectors and their clients with travel expense covered for two people
Three month in-kind contribution to develop the selected startups solution In addition, Startupbootcamp is providing regional winner a FastPass to its APAC Digital Health Selection Days for a chance to enter SBC's 2018 Accelerator Program in Chengdu.
As a result of previous contests, Money Forward, Inc., Freee, Inc. and NTT DATA developed a FinTech service for internet banking that was commercialised in February 2016. Sassor, Inc. and NTT DATA are additionally working toward an energy-management initiative that is expected to provide energy-consumption analysis as an IoT service.
Kotaro Zamma, Head of Open Innovation and Business Incubation at NTT DATA, said, "The Contest 5.0 (the previous and first global contest) was a really strong engine to meet up with unparalleled 10 startups from all over the world and with 7 startups we have started to discuss and work for concrete business development. We continue this project and expand to 15 cities to meet up more various edge-cutting technologies and business and speed up business development in hopes of surpassing 10 billion JPY (about 100 million USD) in annual business by 2020. Now let's change the world together".
Interested startups should apply via the link below for the opportunity to join one of the pitch days across Asia Pacific (Melbourne, Mumbai and Singapore) and potentially pitch your idea and network with NTT DATA, its large corporate clients, investors, government officials and more.
NTT DATA Open Innovation Contest 7.0
Application period
Applications are now open and close and closes 10th October 2017
Orientation Day/Startup Social Schedule and Venues
Mumbai - 91springboard Andheri East – 12th September 2017
Melbourne - York Butter Factory – 14th September 2017
Singapore - Lattice80 – 20th September 2017
Qualified entrants
Legally incorporated startup companies
Contest Schedule
Singapore Contest - 11th January 2018
Mumbai Contest - 16th January 2018
Melbourne Contest - 1st February 2018
Grand Finale in Tokyo – 22nd March 2018
Application documents
Must be written in Japanese or English
Applications may be submitted online here.
About NTT DATA
NTT DATA (TOKYO: 9613) is a leading IT services provider and global innovation partner headquartered in Tokyo, with business operations in over 50 countries. Its emphasis is on long-term commitments, combining global reach with local intimacy to provide premier professional services varying from consulting and systems development to outsourcing. For more information, visit the NTT DATA website.
About Rainmaking
Rainmaking is a global venture builder, design studio and corporate innovation consultancy. Across its 11 offices on 3 continents, Rainmaking runs innovation projects and startups in over 40 countries and facilitates more than 1,250 startup events for more than 100,000 participants every year. Drawing on this extensive network across multiple industries, Rainmaking is able to provide corporates with customised initiatives focused on collaboration with startups that enable both product development, venture building and internal cultural change.
Rainmaking is also the brand behind Startupbootcamp, the world's leading industry-specific corporate-backed accelerator program. Through its global network of corporate-backed accelerators and innovation initiatives, Rainmaking has worked with thousands of startups globally, as well as with MNCs and more than 65 Fortune 500 companies.
Press contact:
+65 8111 7628
Intra-mart is a business integration platform that connects with enterprise and web applications for the management of business decisions, workflow and data processing across the enterprise.
An earlier innovator in its field, intra-mart featured in Gartner's "Cool Vendors in Application and Integration Platforms" as early as 2011. The system is now the leading BPM platform in the Japan and is used by over 5,000 companies and 200 partners in Japan and APAC.
A crucial advantage of the platform is its visual programming language and low-code configuration – which enables business processes and system architecture to be re-engineered and with relative ease, efficiency and cost. Intra-mart has been adapted to various industries from insurance and financial services, to manufacturing and retail.
Business context
The rapid growth of web technology has accelerated disruption, increased customer expectations and brought about a constant state of change. Rigid applications and siloed organisational data are no match for the 'anywhere, anytime' demands of the modern consumer.
Drivers of change:
Proliferation of new media, devices and applications deployed over the web
Multiple channels to manage and engage customers and stakeholders
Complex integration and data aggregation requirements of mixed application portfolios including on-premise, SaaS, SOA or legacy applications
Frenetic and competitive business / technology climate
Intra-mart transforms complexity into opportunity – by providing a common technology platform that complements and extends your existing business systems.
Core functions:
System integration
Business rules management
Workflow orchestration
Document management
Data validation and mapping
Master data management
Micro-services management
Benefits delivered:
Agile, low-code environment for implementing new business process
Automation of business decisions from multi-source data
Reduction time and cost of re-engineering systems and processes
Extensibility of core systems through integrated microservices
Affordable and incremental alternative for legacy system modernisation
Integration and data management
Intra-mart is capable of monitoring and transacting with multiple business systems and API environments concurrently, connecting on-premise, SaaS, SOA, enterprise and legacy systems.
Features:
Plug-in connectors for SAP, SalesForce, Oracle and Microsoft
Java application development framework
Web services integration (REST / SOAP)
Data collection, validation and mapping
API gateway management
Streamline workflow, data capture and business rules
From basic data entry to complex business logic, intra-mart facilitates seamless automation of routine business processes and decisions across the enterprise.
The solution's rules engine provides constant monitoring of multi-source data feeds and enables business rules to be configured without coding and run in a low runtime production environment.
Workflow and business rules management is particularly helpful for organisations faced with high volume, repetitive and standardised processes. By systemising such processes businesses have achieved significant cost savings, faster service delivery and improved error rates.
Relevant usage cases examples include:
Benefits determination for public services
Eligibility determination for promotions for customer loyalty programs
Customer segmentation and tailored product offerings
Insurance claims streaming and policy calculation
Compliance management and corporate governance
Using intra-mart's visual programming language means workflow can be orchestrated without coding – enabling business users to design and implement decision trees, sequential flows and routing decisions for forms, emails, documents and operational tasks.
NTT DATA, a global IT service provider, announced that it would launch an English version of its popular robotic process automation (RPA) solution, "WinActor," for enterprise customers worldwide. The software solution helps companies to reduce their office workloads by automating repetitive operations performed with Windows computers. The original Japanese version has been deployed successfully by more than 100 companies since its launch in Japan in 2014. NTT DATA will market the English version of WinActor outside of Japan together with group and partner companies.
The solution, developed by NTT Advance Technology Corporation and marketed in Japan by NTT DATA, automates and streamlines PC-based office work to help companies deal with labor shortages and changing workstyles.
WinActor, the only solution of its kind developed in Japan, offers the following benefits:
Automation of diverse operations performed by Windows PC applications
Intuitive graphical user interface enables easy deployment by groups or as few as one PC.
High cost performance and easy set up.
So far, financial institutions in Japan, such as banks, insurance companies and card companies, have used WinActor to fully automate enterprise resource planning (ERP) workloads, including for operations in areas such as financing, purchasing, payroll and personnel assessment. Specific examples include:
95% reduction of data-input workload by automatically updating ERP system with orders received/issued data taken from Microsoft Excel spreadsheets.
Fully automated updating of EC and SNS sites with product information taken from Microsoft Excel spreadsheets.
75% reduction of workload to generate slips for orders received/placed.
80% reduction of assessment workload by pulling data from PDFs with OCR and then automatically reviewing data in ERP.
Dinh Halong, COO of Blueship Vietnam, one of the WinActor marketing partners, said, "WinActor, a very powerful automation software with great potential, has three major advantages. Firstly, it offers a wide range of applications for diverse industries. Secondly, it automates intensive, repetitive manual work, which most people hate to do. And thirdly, it helps companies to reduce costs by replacing human labor."
"Our RPA technology has the potential to have a massive impact on office workloads," said Shinji Sumida, Head of Public Division 4 at NTT DATA. "We look forward to offering the new English version of WinActor, which we will market globally to help enterprises improve processes and efficiencies in all business operations."
About NTT DATA
NTT DATA (TOKYO: 9613) is a leading IT services provider and global innovation partner headquartered in Tokyo, with business operations in over 50 countries. Its emphasis is on long-term commitments, combining global reach with local intimacy to provide premier professional services varying from consulting and systems development to outsourcing. For more information, visit www.nttdata.com.