Today's business world is evolving faster than ever in Japan and across the globe. As a company and as individuals, we think through what we do, act differently and transform our business to drive better future for NTT DATA. Mission and Vision statements serve as a guide to achieve our aspirations.
Mission Statement
NTT DATA uses information technology to create new paradigms and values, which help contribute to a more affluent and harmonious society.
Employee Creed
1.

We will do our utmost to serve our customers.

2.

We will meet the challenges of our work with an active and positive spirit.

3.

We will create a vital and vibrant company.
Group Vision
In 2005, in response to accelerating globalization, NTT DATA instituted a new Group Vision, which we termed Global IT Innovator. With IT at the core of our business, we aimed to comprehensively expand our operations to markets around the world. Our vision embraced two beliefs: "we could change IT to make it better" and "through IT we could change the world." As a leading innovator in the field of IT, we set out to enable our clients to achieve their highest goals and aspirations.
In 2013, our growing operations include approximately 62,000 people in 35 countries working on the challenges that our clients face. To help accelerate our business growth in the decade ahead, we have instituted a new highly evolved definition of Global IT Innovator.
Our Group Vision contains three messages: (1) we build long-term relationships with our clients and enable them to reach their highest goals and aspirations; (2) we create evolving ecosystems through advanced technology; and (3) we enhance our creativity through the respect and encouragement of diversity at every level of our company. At NTT DATA, new challenges and the opportunity for greater progress in the decade ahead begin now.
We realize the dreams of our clients around the world through long-term relationships.
We develop evolving ecosystems with our clients through leading-edge technologies.
We enhance our creativity by respecting diversity.
An important step in working together and achieving the corporate transformation set out in our Group Vision is stating the values we esteem and seek to share. These values are as follows:
Clients First
First, and above all else, we place the needs of our clients. We work continuously to understand your business and we strive to resolve every concern to your satisfaction. We feel responsibility to ensure your success and we let this obligation set the direction of our work and guide our actions.
Foresight
We never settle for the status quo. Instead, with speed and foresight, we anticipate challenges that lay ahead. We consider the future of IT as well as the future of your business, work to enhance our ability to picture the future, and with our ecosystems, adapt to the changing business environment. In this way, we help you to meet your goals and create a brighter future for society.
Teamwork
We put great importance on enabling our employees to achieve their best through their work with each other. We believe that when a diverse group of individuals brings their unique world views together, shares their wisdom, and works toward a common goal, the results are extraordinary and far beyond what can be achieved by any one person.
Global Compliance Policy
Global Compliance Policy sets criteria that guide our daily actions with regard to ethics, laws, regulations, etc.
Special Contents
NTT DATA Technology Foresight provides you with the insight you need to better understand - and prepare for - these coming changes. The product of a year - long research effort,At NTT DATA, we continually investigate advanced technologies and social trends that we believe will impact businesses over the next three to ten years, and we publish these findings on an annual basis for the benefit of our clients
NTT DATA was thrilled to host the Melbourne Pitch Day for the Open Innovation Contest 7.0 - in which ten selected start-ups took to the stage to sell their ideas to a panel of industry leaders.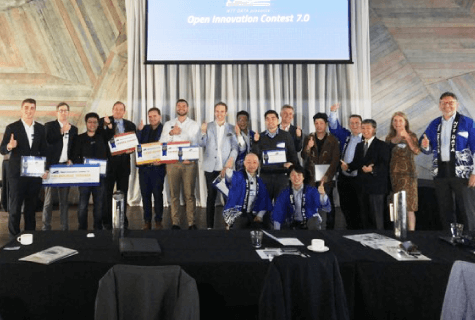 In what was a highly competitive pitch day event with a rich talent pool, Start-ups had just seven minutes to convince judges and the audience of their idea. Start-ups showcased some very exciting prospects from a variety of technology and industry domains - including smart health device, Internet of Things (IoT), 3D printing and Artificial Intelligence. Cloud-based enterprise workflow software provider - Emvisage was selected to progress to the Grand Finale in Tokyo Japan.
We were fortunate to receive keynote speeches from Kathy Coultas, Director, Strategic Innovation Investment, Department of Economic Development, Jobs, Transport and Resources, Victoria State Government; as well as Mr Kazuyoshi Matsunaga, Consul-General of Japan in Melbourne, Australia.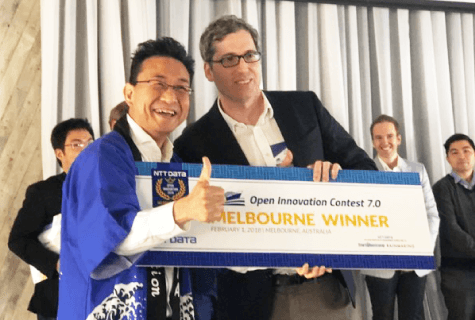 Pitch Day Winner - Cameron Milnes, CEO of Emvisage - receiving the award
About Emvisage:
"Emvisage changes the way people see enterprise workflow software. Our platform helps large organisations like GE, AGL and Asahi Beverages to digitise and deliver work. Emvisage is tailored to the way your business works, with its beautifully intuitive interface, people grasp it quickly. And it's fast. A customised solution up and running in less than two weeks – the results can be transformative" - Cameron Milnes, Emvisage CEO.
Meet the Startups:
Looking for more on the Open Innovation Contest?
The Vatican Apostolic Library has commissioned a project to create an online digital archive to preserve its manuscripts for future generations. This activity will form part of an enduring cultural legacy.
NTT DATA has agreed to participate in the Vatican Apostolic Library digitisation project, recognising that it is an endeavour that can be considered a major contribution to humanity. In April 2014, NTT DATA began working on the project, with plans to digitise approximately 3,000 handwritten manuscripts over the course of the next four years.
Through the project, high-definition images can be observed using a special viewer that has been built with NTT DATA's digital archive solution technology, AMLAD. The viewer, which has interfaces for multiple types of devices, including tablets, provides easy access to brilliant images of these irreplaceable manuscripts.
The following website provides details on the scope and content of the Vatican Apostolic Library's Digital Archiving Project.
NTT DATA, a leading IT services provider, was recently recognised as a leader in NelsonHall's NEAT Vendor Evaluation for SAP HANA and S/4HANA Services(PDF: 12 pages, 946KB). NTT DATA was ranked as a leader in the "overall" category, as well as the "SAP HANA Focus" category and "S/4HANA Focus" category.
"To be identified as a leader for SAP HANA and S/4HANA services is an honour, but to be ranked as one of the leaders in the industry is truly a testament to our team of experts who provide unique SAP solutions to solve our client's specific needs," said Kaz Nishihata, Senior Executive Vice President & Representative Director, NTT DATA Corporation. "Our capabilities, combined with NTT DATA companies, itelligence(External Link) and everis(External Link), have enabled our global client base to be leaders in the adoption and implementation of SAP HANA and S/4HANA."
"NTT DATA has aggressively built its SAP HANA and S/4HANA capabilities, beginning with its acquisition of itelligence," said, David McIntire, IT Services Research Director for NelsonHall. "It is now focusing its offerings to support the breadth of HANA and S/4HANA services from assessment to implementation to operations for clients from SMB to large enterprise".
NTT DATA supports the adoption and implementation of SAP HANA and S/4HANA through consulting, implementation and modernization services. NelsonHall identified the company's strengths, which included SAP-certified industry solutions, deep expertise in S/4HANA implementation services, a strong EMEA and SMB HANA and S/4HANA practice, as well as a strong willingness to acquire additional SAP capabilities.
NelsonHall's comprehensive market assessment report of the SAP HANA and S/4HANA industry and trends highlights the current and future market for the services, as well as covering the leading industry service providers and the benefits and results the vendors have been able to achieve for their clients.
About NTT DATA
NTT DATA (TOKYO: 9613) is a leading IT services provider and global innovation partner headquartered in Tokyo, with business operations in over 50 countries. Its emphasis is on long-term commitments, combining global reach with local intimacy to provide premier professional services varying from consulting and systems development to outsourcing. For more information, visit www.nttdata.com.
About NelsonHall
NelsonHall is the leading global analyst firm dedicated to helping organizations understand the 'art of the possible' in next generation IT and business services. With analysts in the U.S., U.K., and Continental Europe, NelsonHall provides buy-side organizations with detailed, critical information on markets and vendors that helps them make fast and highly informed sourcing decisions. And for vendors, NelsonHall provides deep knowledge of market dynamics and user requirements to help them hone their go-to-market strategies. NelsonHall's research is rigorous and all-original, and widely respected for the quality, depth and insight of its analysis.
For more information, please contact:
News Releases.
The services, prices of products and services, specifications, telephone numbers, etc. for inquiries and other information included in news releases are the data available on the day of the release. This information may be changed at any time without notice. In certain circumstances, due to various risks or unexpected occurrences, actual results may also be different from the plans or projections in news releases.