Recommended Browsers
The pages on this site have been designed so that they can be viewed with older versions of many browsers. However, browsers updated in line with World Wide Web Consortium (W3C) specifications have special accessibility features, so visitors to this site with more up-to-date browsers will enjoy a better viewing experience.
The best service environment
The latest version of Google Chrome for Windows 7 as of October 2015.
The recommended service environment
The latest version of Firefox for Windows XP/Vista/7 as of October 2015, the latest version of Google Chrome for Windows XP/Vista as of October 2015, and Internet Explorer Version 9 for Windows Vista/7
Safari 5.x for Mac OS X 10.5/10.6/10.7
The minimum service environment
Internet Explorer 8, 7, and 6 for Windows XP/Visat/7
Flash Player 10 or later has to be installed.
Adobe Flash Player
Allows you to view animation and other content made with Adobe Flash as well as other compatible content.
Adobe Acrobat
Allows you to view and print content provided in PDF files.
Scripts
JavaScripts are included on this site to make it more convenient for visitors to use. Efforts have been made to ensure the site can be viewed with environments that do not allow the use of JavaScripts and when JavaScripts have been disabled. However, if JavaScripts are not used, some pages may display in an unintended manner.
When using this site, please try to ensure JavaScripts are enabled.
Accessibility
This site aims to be an attractive yet accessible site that can be used by as many people as possible. It therefore makes use of the latest in web expression technologies and methods. NTT DATA Thailand intends to continue working to make the site as accessible as possible, based on the W3C's Web Accessibility Initiative (WAI)'s Web Content Accessibility Guidelines, the Guidelines for older persons and persons with disabilities Information and communications equipment, software and services Part 3: Web content (JIS X 8341-3), and the Guidelines for Designing Accessible Web Content on the Internet announced at the fifth session of the Joint Meeting of the IT Strategy Council and the IT Strategy Headquarters, as well as other standards.
Linking to the NTT DATA Thailand Web site
Operators of other Web sites are, as a general rule, free to include links to this Web site. However, NTT DATA Thailand assumes no responsibility for the content of any third-party sites linked to or from this site. The scope of this Web site is limited to pages with the domain name "nttdata.com" . Links to pages outside this scope should be made only after confirming the policy of the respective sites.
The following practices are strictly forbidden.
1.

Linking to this site from a site with content slanderous of or otherwise injurious to the company or its products or harmful to its reputation.

2.

Linking to this site from a site with content that goes against the public order and morals.

3.

Linking to this site from a site containing illegal content, or involved in or likely to be involved in illegal activity.

4.

Using a frame or other means to disguise the fact that the displayed content is from this site.
Using the NTT DATA Corporate Logo
When using the NTT DATA corporate logo GIF for making links to this site, please observe the following use conditions and guidelines.
Corporate Logo Use Conditions
Use of the NTT DATA corporate logo shall constitute agreement to abide by the following conditions.
The logo GIF shall be used only for linking to the NTT DATA Web site.
The user shall acknowledge the rights of NTT DATA to the logo and shall make no claims regarding those rights.
Use of the NTT DATA logo to link to this site does not entitle the owner of the linking Web site to any privilege or consideration by NTT DATA, nor shall any such representation be made.
The logo GIF shall be used exactly in the form provided, without making any alterations.
NTT DATA reserves the right to discontinue allowing the use of its corporate logo at any time, and has the right to alter its shape and design.
Linking from the Company Name
Use the following HTML code when linking from the company name.
<a href="http://th.nttdata.com/">NTT DATA Australia</a>
Please use a proper form of the company name in the link: NTT DATA Australia.
Other Points to Note
The content of the NTT DATA Australia Web site is subject to change or deletion without prior notice. The use conditions given here may be changed without prior notice. In case of such change, the user shall be responsible for following the new conditions. Before reproducing this Web site in books, magazines or other printed materials, or in a CD-ROM or other recording media, please contact us.
Disclaimer
Although every effort is made to ensure the accuracy of the information on this Web site, NTT DATA Australia is not responsible for any technical inaccuracies, typographical errors or other errors herein. Information may be changed or updated without notice.
Matters Protected by Copyright on this Web Site
Unless specifically stated to the contrary, the copyright of all documents, images, pictures, software, and other content provided on this Web site belongs to NTT DATA Australia or to third parties that have granted rights thereof to NTT DATA Australia. The handling or use of the said documents, images, pictures, software, and other works is subject to the following conditions.
Works contained in this Web site may be displayed and may be reproduced by printing or other means only for personal nonprofit use by private individuals and for internal use by corporate and other organizations and bodies, subject to the condition that NTT DATA Australia's copyright notice must be affixed to all such reproductions. If usage conditions that differ from these are stated with regard to any works on this Web site, those conditions take precedence to these.
Any use other than that described above is permitted only on condition that a written request is made in advance, and NTT DATA Australia's formal permission is obtained. Approval will be refused for any methods of use that may lead to misunderstanding on the part of third parties.
Trademark Rights
The names of NTT DATA Australia's products and services referred to on this Web site are trademarks or registered trademarks of NTT DATA Australia. The names of other companies, products, services, etc., are the trade names, trademarks, or registered trademarks of the companies concerned.
With the exception of the permissions set out on this page, this Web site shall not be construed as granting permission for any other rights based on the copyrights, patent rights, trademark rights, or other intellectual property rights of NTT DATA Australia or any third party.
This website, NTT DATA Australia, is owned and operated by NTT DATA Australia, which is a wholly-owned subsidiary of NTT DATA Corporation, a Japanese corporation.
NTT DATA Australia's Personal Information Protection Policy
NTT DATA Australia recognizes the importance of personal information and ensures the protection and safeguarding of its customers' personal information as a fundamental principle of its business and its responsibility to society. Accordingly, NTT DATA Australia has established the Personal Information Protection Policy described below and ensures that all its officers, employees, and business partners thoroughly understand and fully comply with the Policy.
1.

Collection, Use, Provision, and Entrustment of Personal Information

1.

Personal information shall be collected only after informing the customers of the purpose and obtaining consent for doing so, except when the rights or interests of customers or third parties may be injured. The scope of use of the personal information collected is limited, and, the information shall be handled appropriately within this scope.

2.

Personal information collected by NTT DATA Australia shall not be provided to third parties without prior express consent of the customers, except as required by law or regulation.

3.

NTT DATA Australia may entrust customers' personal information with authorized third parties. In all such cases, NTT DATA Australia shall select the recipient with great care from among those parties that have established a sufficient level of protection of the personal information, and make necessary supervision or otherwise ensure, through a contract,etc. stipulating the level of protection to be observed, that the recipient manages the information properly.

2.

Disclosure, Correction, Discontinuance of Use, etc. of Personal Information
NTT DATA Australia shall accommodate requests for disclosure, correction, discontinuance of use, etc. of customers' personal information promptly within a reasonable scope.

3.

Implementation of Security Measures
NTT DATA Australia implements safeguard measures and diligently works toward preventing unauthorized access to personal information, and the loss, destruction, alteration, leakage, etc. of such information. Specific rules governing the appropriate handling and use of personal information are in place, and staff are assigned to take responsibility therefor.

4.

Observance of Laws, Regulations and Other Norms Relating to Personal Information
With respect to the observance of laws, regulations, and other norms relating to personal information, NTT DATA Australia's officers, employees, and business partners who handle personal information comply with the laws, regulations, and guidelines relating to the protection of personal information and the privacy of communication.

5.

Continuous improvements to this Personal Information Protection Policy and In-house Rules and Regulations
NTT DATA Australia makes continuous improvements to this Personal Information Protection Policy and in-house rules and regulations to ensure that the protection of personal information as determined by socially accepted norms is conducted effectively.

6.

Inquiries as to Personal Information
NTT DATA Australia will make every effort to respond to inquiries promptly within a reasonable scope. Please contact NTT DATA Australia's customer service.
Established:
Revised:
Toshio Iwamoto
President and Chief Executive Officer
NTT DATA Australia may revise the Policy set out above and issue notification of all revisions on this website.
This is an English translation of the official version of the Policy, which has been published in Japanese.
The Use of Information Requested from Users of This Website
This website is operated for the purpose of providing information about NTT DATA Australia. Certain parts of the site request its visitors to provide personal information for the following purposes of:
Responding and answering to inquiries;
Delivering NTT DATA Australia's public relations magazine INFORIUM; and
Delivering news releases.
Please note that it may be necessary, for the above purposes, to provide such information to a third party to enable it to provide answer and delivery services directly to the site visitors.
1.

Purposes of information provision to a third party

a)

NTT DATA Australia may, for the above purposes, disclose personal information provided at the discretion of the site visitors. Except in this case, it shall not provide such information to a third party without the prior consent of the site visitors. However, the following cases of b) and c) will make an exception.

b)

In the case where the provision of such information is ordered by the court or governmental agencies, national or local, in accordance with the stipulation of laws or regulations.

c)

In the case where it is necessitated for the purpose of protection of rights, property, security, etc. of the site visitors and NTT DATA Australia.

2.

Items of personal information

Names, company names, section names, posts of assignment, addresses, telephone numbers, facsimile numbers, and e-mail addresses

3.

Means or media of provision

Internet delivery
Provision in writing or through other media

4.

Party to which personal information is provided

The party designated by NTT DATA Australia

5.

Contract with the preceding party on handling personal information

A contract has been made between NTT DATA Australia and the party on the handling of personal information.
Please note that if we are provided with inaccurate personal information by the site visitors, we may be unable to respond to their inquiries, etc.
Disclaimers
Use of this website is the responsibility of the user. NTT DATA Australia accepts no responsibility whatsoever for any losses or damage arising from any information obtained from this website or from other linked websites.
Applicable Laws and Jurisdiction
This website is administered by NTT DATA Australia.
Notwithstanding the fact that this site can be accessed from countries worldwide that have laws different from those of Japan, both the users of this site and NTT DATA agree to be bound by the laws of Japan and ordinances of the Tokyo Metropolitan Government regarding the use of this site.
NTT DATA makes no statement or indication whatsoever on this site concerning such matters as the appropriateness of the content of this site to the environments of the persons who access it. Access to this site is at the free will of the persons who access it, and responsibility for use of the site lies with them.
Cookies
To enhance the convenience of the users of this website, some pages send data files in the form of cookies to users' computers, but this is not used by NTT DATA Australia to obtain personal information from users.
Four companies of the NTT Group (Dimension Data, NTT Communications, NTT DATA, NTT Security) today announced that it has been recognized as a Leader in both execution capabilities and strategies in the latest IDC MarketScape: Asia/Pacific Managed Security Services 2018 Vendor Assessment.
In the IDC MarketScape report, 19 organizations in 2017–2018 that offer managed security services (MSS) in Asia/Pacific including NTT Group were assessed against their existing capabilities and responsiveness to prevailing market demands and expected buyer needs, as well as preparedness for cyber threats. The latest accolade marks the 3rd consecutive time NTT Group has been identified as the top industry leader among Asia/Pacific MSS providers.
IDC MarketScape: Asia/Pacific Managed Security Services 2018 Vendor Assessment (doc #AP42609818e, June 2018). The report can be viewed here. (PDF: 08 pages, 230KB) The IDC report cited the integrated yet effective touch point NTT customers have as a key strength. In addition, excellent customer experience also includes a smooth setup process, dedicated delivery operation, providing industry benchmark.
NTT's threat detection capabilities are highly praised, especially around the accuracy level by its customers. In addition, the cloud-based, searchable raw data logs that can be used to assist with incident investigations and compliance queries are a highly regarded functionality that NTT has.
The proprietary MSS platform closely connects with its threat intelligence database to protect organizations and ensure service delivery consistency across multiple regions which IDC noted was particularly important for enterprise wide security monitoring and management, vulnerability lifecycle management and custom managed detection and response. The MSS solution also provides optimized security through NTT Group's unique insight, advanced analytics and applied threat intelligence over and above what can usually be done in-house.
In addition, four companies of the NTT Group (Dimension Data, NTT Communications, NTT DATA, NTT Security) added the following comments
Neville Burdan, General Manager for Security, Dimension Data: "As part of the NTT Group, we are delighted to be recognised as a 'Leader' in the latest IDC Marketscape. This is a clear demonstration of the combined strength we have as a Group in delivering trusted, agile security solutions which mitigate the growing proliferation of cyber risks and the ever-increasing sophistication of cybercrime in today's hybrid environment. The Group's broad cybersecurity capabilities and consulting-led approach helps our global client base navigate this complex environment, whilst supporting them in enabling digital transformation and minimising risk."
Fumitaka Takeuchi, Vice President of the Managed Security Service Taskforce, Corporate Planning Department, NTT Communications: "Considering how greatly digital transformation is altering the businesses environment and how broadly company needs are diversifying, ICT has become a key business factor and its strategies have become as important as core business strategies. To assure all-important business continuity, it is crucial for companies to manage both foreseen and unforeseen risks in their ICT environments, including risks due to external attacks as well as internal wrongdoing. NTT Com spares no effort to serve as a reliable partner to help companies succeed in their digital transformations. NTT Com will continue striving to deliver solutions that enable customers to leverage their data with ease and to create new value."
NTT Communications' Corporate Planning Department: Hiroshi Honjo, Head of Cyber Security and Governance, Technology and Innovation General Headquarters, NTT DATA: "As digital business grows, dramatic changes are taking place in the environment surrounding applications and infrastructures. Security is an extremely important agenda in managing business in order to securely provide diversifying services. NTT DATA will continue to work closely with NTT Group and various partners and help clients provide their services safely and securely by providing trusted security services encompassing consulting, application development, solutions and operations."
Martin Schlatter, CIO and Regional CEO, APAC, NTT Security: "The global economy is becoming increasingly interconnected with the digital landscape. Organizations become lucrative targets to cyber criminals, making cyber security a critical part of any organization's risk management strategy. The lack of internal resource to keep pace with a growing cyber security challenge means that it's no longer possible for many organizations to tackle all aspects of information security management in-house."
NTT Group enables organizations to accelerate their digital agenda through securing the foundation of a connected society. With a large resource base of certified security experts and global R&D activities to respond to the changing threat environment, brings wider benefits to provide our customers unique capabilities for risk mitigation.
Notes for editors:
About IDC MarketScape
The IDC MarketScape presents a vendor assessment of 19 managed security services providers in the context of the Asia/Pacific region. The assessment reviews both quantitative and qualitative characteristics that define current market demands and expected buyer needs for MSS. The evaluation is based on a comprehensive and rigorous framework that assesses how each vendor stacks up to one another, and the framework highlights the key factors that are expected by technology buyers when selecting a managed security services (MSS) partner.
About Dimension Data
Dimension Data's security business supports organizations in creating an adaptable and predictive security posture across their network, data assets, cloud, applications, and the digital workplace. With our end-to-end portfolio of security capabilities including consulting, a suite of technical, support and managed security services, we help our clients through the full security lifecycle. Founded in 1983, Dimension Data is a USD 8 billion global leader in designing, optimizing, and managing today's evolving technology environments. This enables its clients to leverage data in a digital age, turn it into information, and extract insights. Dimension Data is a proud member of the NTT Group. Visit us at www2.dimensiondata.com
About NTT Communications
NTT Communications solves the world's technology challenges by helping enterprises overcome complexity and risk in their ICT environments with managed IT infrastructure solutions. These solutions are backed by our worldwide infrastructure, including industry leading, global tier-1 public and private networks reaching over 190 countries/regions, and more than 400,000m2 of the world's most advanced data center facilities. Our global professional services teams provide consultation and architecture for the resiliency and security required for your business success, and our scale and global capabilities are unsurpassed. Combined with NTT DATA, NTT DOCOMO and Dimension Data, we are NTT Group.
About NTT DATA
NTT DATA is a leading IT services provider and global innovation partner headquartered in Tokyo, with business operations in over 50 countries. Our emphasis is on long-term commitment, combining global reach with local intimacy to provide premier professional services varying from consulting and systems development to outsourcing. For more information, visit www.nttdata.com/
About NTT Security
NTT Security is the specialized security company and the center of excellence in security for NTT Group. With embedded security we enable NTT Group companies to deliver resilient business solutions for clients' digital transformation needs. NTT Security has 10 SOCs, seven R&D centers, over 1,500 security experts and handles hundreds of thousands of security incidents annually across six continents. NTT Security ensures that resources are used effectively by delivering the right mix of Managed Security Services, Security Consulting Services and Security Technology for NTT Group companies – making best use of local resources and leveraging our global capabilities. NTT Security is part of the NTT Group (Nippon Telegraph and Telephone Corporation), one of the largest ICT companies in the world. Visit nttsecurity.com to learn more about NTT Security or visit http://www.ntt.co.jp/index_e.html to learn more about NTT Group.
For more information, please contact:
NTT DATA Corporation
Global Marketing Headquarters, Marketing & Analyst Relations
Kyoko Sugiyama Yuko Ooishi
E-mail: gbs-opg@kits.nttdata.co.jp
News Releases.
The services, prices of products and services, specifications, telephone numbers, etc. for inquiries and other information included in news releases are the data available on the day of the release. This information may be changed at any time without notice. In certain circumstances, due to various risks or unexpected occurrences, actual results may also be different from the plans or projections in news releases.
Today's business world is evolving faster than ever in Japan and across the globe. As a company and as individuals, we think through what we do, act differently and transform our business to drive better future for NTT DATA. Mission and Vision statements serve as a guide to achieve our aspirations.
Mission Statement
NTT DATA uses information technology to create new paradigms and values, which help contribute to a more affluent and harmonious society.
Employee Creed
1.

We will do our utmost to serve our customers.

2.

We will meet the challenges of our work with an active and positive spirit.

3.

We will create a vital and vibrant company.
Group Vision
In 2005, in response to accelerating globalization, NTT DATA instituted a new Group Vision, which we termed Global IT Innovator. With IT at the core of our business, we aimed to comprehensively expand our operations to markets around the world. Our vision embraced two beliefs: "we could change IT to make it better" and "through IT we could change the world." As a leading innovator in the field of IT, we set out to enable our clients to achieve their highest goals and aspirations.
In 2013, our growing operations include approximately 62,000 people in 35 countries working on the challenges that our clients face. To help accelerate our business growth in the decade ahead, we have instituted a new highly evolved definition of Global IT Innovator.
Our Group Vision contains three messages: (1) we build long-term relationships with our clients and enable them to reach their highest goals and aspirations; (2) we create evolving ecosystems through advanced technology; and (3) we enhance our creativity through the respect and encouragement of diversity at every level of our company. At NTT DATA, new challenges and the opportunity for greater progress in the decade ahead begin now.
We realize the dreams of our clients around the world through long-term relationships.
We develop evolving ecosystems with our clients through leading-edge technologies.
We enhance our creativity by respecting diversity.
An important step in working together and achieving the corporate transformation set out in our Group Vision is stating the values we esteem and seek to share. These values are as follows:
Clients First
First, and above all else, we place the needs of our clients. We work continuously to understand your business and we strive to resolve every concern to your satisfaction. We feel responsibility to ensure your success and we let this obligation set the direction of our work and guide our actions.
Foresight
We never settle for the status quo. Instead, with speed and foresight, we anticipate challenges that lay ahead. We consider the future of IT as well as the future of your business, work to enhance our ability to picture the future, and with our ecosystems, adapt to the changing business environment. In this way, we help you to meet your goals and create a brighter future for society.
Teamwork
We put great importance on enabling our employees to achieve their best through their work with each other. We believe that when a diverse group of individuals brings their unique world views together, shares their wisdom, and works toward a common goal, the results are extraordinary and far beyond what can be achieved by any one person.
Global Compliance Policy
Global Compliance Policy sets criteria that guide our daily actions with regard to ethics, laws, regulations, etc.
Special Contents
NTT DATA Technology Foresight provides you with the insight you need to better understand - and prepare for - these coming changes. The product of a year - long research effort,At NTT DATA, we continually investigate advanced technologies and social trends that we believe will impact businesses over the next three to ten years, and we publish these findings on an annual basis for the benefit of our clients
NTT DATA was thrilled to host the Melbourne Pitch Day for the Open Innovation Contest 7.0 - in which ten selected start-ups took to the stage to sell their ideas to a panel of industry leaders.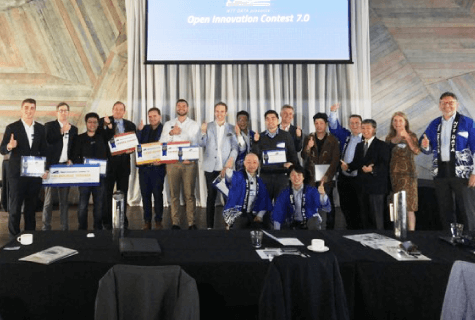 In what was a highly competitive pitch day event with a rich talent pool, Start-ups had just seven minutes to convince judges and the audience of their idea. Start-ups showcased some very exciting prospects from a variety of technology and industry domains - including smart health device, Internet of Things (IoT), 3D printing and Artificial Intelligence. Cloud-based enterprise workflow software provider - Emvisage was selected to progress to the Grand Finale in Tokyo Japan.
We were fortunate to receive keynote speeches from Kathy Coultas, Director, Strategic Innovation Investment, Department of Economic Development, Jobs, Transport and Resources, Victoria State Government; as well as Mr Kazuyoshi Matsunaga, Consul-General of Japan in Melbourne, Australia.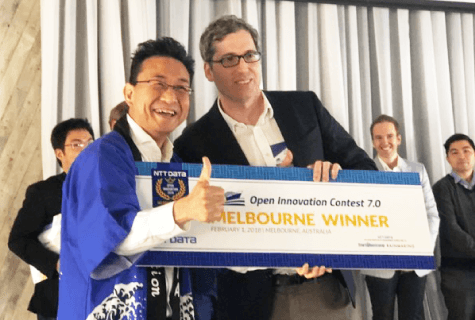 Pitch Day Winner - Cameron Milnes, CEO of Emvisage - receiving the award
About Emvisage:
"Emvisage changes the way people see enterprise workflow software. Our platform helps large organisations like GE, AGL and Asahi Beverages to digitise and deliver work. Emvisage is tailored to the way your business works, with its beautifully intuitive interface, people grasp it quickly. And it's fast. A customised solution up and running in less than two weeks – the results can be transformative" - Cameron Milnes, Emvisage CEO.
Meet the Startups:
Looking for more on the Open Innovation Contest?
The Vatican Apostolic Library has commissioned a project to create an online digital archive to preserve its manuscripts for future generations. This activity will form part of an enduring cultural legacy.
NTT DATA has agreed to participate in the Vatican Apostolic Library digitisation project, recognising that it is an endeavour that can be considered a major contribution to humanity. In April 2014, NTT DATA began working on the project, with plans to digitise approximately 3,000 handwritten manuscripts over the course of the next four years.
Through the project, high-definition images can be observed using a special viewer that has been built with NTT DATA's digital archive solution technology, AMLAD. The viewer, which has interfaces for multiple types of devices, including tablets, provides easy access to brilliant images of these irreplaceable manuscripts.
The following website provides details on the scope and content of the Vatican Apostolic Library's Digital Archiving Project.
NTT DATA, a leading IT services provider, was recently recognised as a leader in NelsonHall's NEAT Vendor Evaluation for SAP HANA and S/4HANA Services(PDF: 12 pages, 946KB). NTT DATA was ranked as a leader in the "overall" category, as well as the "SAP HANA Focus" category and "S/4HANA Focus" category.
"To be identified as a leader for SAP HANA and S/4HANA services is an honour, but to be ranked as one of the leaders in the industry is truly a testament to our team of experts who provide unique SAP solutions to solve our client's specific needs," said Kaz Nishihata, Senior Executive Vice President & Representative Director, NTT DATA Corporation. "Our capabilities, combined with NTT DATA companies, itelligence(External Link) and everis(External Link), have enabled our global client base to be leaders in the adoption and implementation of SAP HANA and S/4HANA."
"NTT DATA has aggressively built its SAP HANA and S/4HANA capabilities, beginning with its acquisition of itelligence," said, David McIntire, IT Services Research Director for NelsonHall. "It is now focusing its offerings to support the breadth of HANA and S/4HANA services from assessment to implementation to operations for clients from SMB to large enterprise".
NTT DATA supports the adoption and implementation of SAP HANA and S/4HANA through consulting, implementation and modernization services. NelsonHall identified the company's strengths, which included SAP-certified industry solutions, deep expertise in S/4HANA implementation services, a strong EMEA and SMB HANA and S/4HANA practice, as well as a strong willingness to acquire additional SAP capabilities.
NelsonHall's comprehensive market assessment report of the SAP HANA and S/4HANA industry and trends highlights the current and future market for the services, as well as covering the leading industry service providers and the benefits and results the vendors have been able to achieve for their clients.
About NTT DATA
NTT DATA (TOKYO: 9613) is a leading IT services provider and global innovation partner headquartered in Tokyo, with business operations in over 50 countries. Its emphasis is on long-term commitments, combining global reach with local intimacy to provide premier professional services varying from consulting and systems development to outsourcing. For more information, visit www.nttdata.com.
About NelsonHall
NelsonHall is the leading global analyst firm dedicated to helping organizations understand the 'art of the possible' in next generation IT and business services. With analysts in the U.S., U.K., and Continental Europe, NelsonHall provides buy-side organizations with detailed, critical information on markets and vendors that helps them make fast and highly informed sourcing decisions. And for vendors, NelsonHall provides deep knowledge of market dynamics and user requirements to help them hone their go-to-market strategies. NelsonHall's research is rigorous and all-original, and widely respected for the quality, depth and insight of its analysis.
For more information, please contact:
News Releases.
The services, prices of products and services, specifications, telephone numbers, etc. for inquiries and other information included in news releases are the data available on the day of the release. This information may be changed at any time without notice. In certain circumstances, due to various risks or unexpected occurrences, actual results may also be different from the plans or projections in news releases.
Technology has never been more crucial to providing customer value, driving competitive advantage and achieving operational and cost efficiencies. As a top 10 global IT services provider, NTT DATA is an IT innovator you can trust. Headquartered in Tokyo, Japan, our operations span across a network of 100,000 industry professionals, with a presence in over 50 countries worldwide.
With business in all states of Australia, NTT DATA provide a full suite of IT services to clients in the Public Sector, Transportation, Retail, Insurance and Financial Services industries. We work at all levels of the IT ecosystem, providing solutions for Big Data and Analytics, Application Development and Management, Enterprise Application Services, IT Outsourcing, CRM, and Quality Assurance and Testing.
As a partner to our clients, we devise strategies to remove the pain-points that inhibit growth, while developing cost-effective solutions, with the right technology mix, to meet the demands of an agile, digital economy.
A Rich History of Innovation
From our integral role in building Japan's financial systems to helping advance safety in air transportation, NTT DATA has been a pioneer of social change for more than five decades.